Client love &
Testimonials We'd like to think our work speaks for itself:
After three knee surgeries and countless physical therapists, I finally found a trainer who was truly attentive to my needs and circumstances.
I came to see Peter in June 2013. Peter Sheridan is the best trainer I have met. Peter helped re-pattern my movement patterns to relieve stress from key areas and strengthen muscles in others. It was the approach that proved the most helpful. He listened to my story, was attentive to my symptoms, and devised a recovery scheme that got me back from hobbling to extreme skiing in the Alaska backcountry.
Peter takes great pride in his studio. He keeps it immaculately clean and stocks it with great equipment. It is a terrific environment in which to work out, train, get and stay motivated, and be supported. He's wonderful to work with one-on-one, but also runs classes that are awesome.
I would strongly recommend Peter Sheridan and the Healdsburg Pilates Studio to anyone looking to train for sports, address aches and pains, maintain general fitness, or recover from an injury.
I truly doubted that I would ever be able to ski again, but after diligent work with Peter, I got back into the mountains and skied 125,000 vertical feet in a week!
Heath Thomson Founder |
Metes & Bounds
| A Table-To-Farm Dining Experience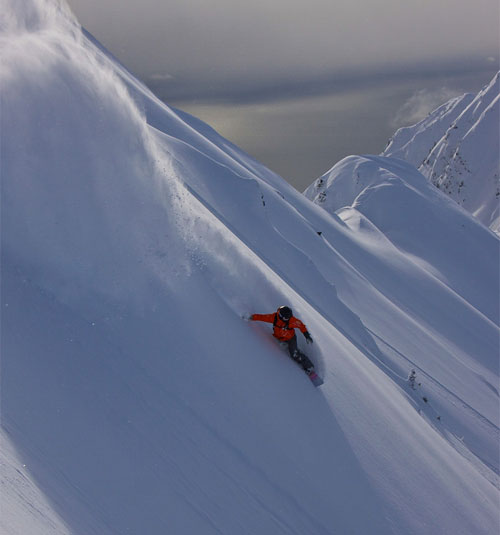 Heath Thomson, heli-skiing in Alaska backcountry, March 2014
I used to spin in LA avidly... and with Peter, going to spinning once a week I'm more in touch with my core and I notice a difference only spinning once a week than I did when I spun four times a week. He's definitely got a magic touch with adults, with dogs and with children. He's like a Buddha that listens to Alice Cooper and Led Zeppelin and blends his meditative philosophies in a seemingly intense environment, which kind of brings you into a balanced space. Aria
Peter was with me in exactly the way I needed someone to be with me in that traumatic moment, and that means to be fully present and not move, not push me, not manipulate the knee... and I realized afterwards that my level of trust had changed because he was fully there and I could totally trust him and that made a difference in all the work after that. Sargam
It's a long list of what the benefits are, but being a former athlete its not necessarily for conditioning, its for inner peace and calm and how that carries over into day to day life Debra
I've had a diagnosis of osteoporosis... for the first time after many, many, many doctors and many medications I feel like I have tools that I can use... I feel empowered that I have something I can help myself with... Lorraine
My way of thinking changed. My body is strong and I know that I can do it, but I needed someone who can make me do it. I'm addicted to this place Sonja
I like the fact that in an hour and a half I can get a workout that would take me three hours on my own... Douglas
I have and will continue to refer Healdsburg Pilates and Fitness especially for life changes and needing to figure out a new way of doing things... Nicole
I feel like as a result of my working at the Healdsburg Pilates studio I really do have a new body, and I'm enjoying it a lot. Eric
Recently they've added a Barre Class which I think is my favorite class of all... Care
The important part for me was to have a place to go where people were paying attention to me getting better & also the technique of how I was doing it... Gene
I spend endless hours contorting myself into the most ergonomically unfriendly poses possible as I go through my day in front of the computer with my brain buried in code. I live entirely in my head, attending to my body only when it complains for food or ibuprofen. Apparently this is not a sustainable lifestyle, as my shoulders have knotted into an impenetrable mass, and my neck has decided it will no longer support my skull without stabbing me in the eye socket to remind me it needs attention.
Enter Peter. Through his careful observations of my peculiar habits and warped movements, coupled with his extensive knowledge of things called muscles, joints, spinal columns and pelvic bowls he has guided me patiently and attentively through various exercises that have slowly pulled me from the brink of wizened trolldom. My migraines have decreased, my sleeping is sounder and my overall stamina and general outlook have improved since having started personal training at Healdsburg Pilates.
I am definitely a gymphobic introvert. Coming to a clean, quiet studio with equipment that is patiently explained and helpfully adjusted for my workout makes exercising far less intimidating. Sessions bolstered by Peter's encouragement and good humor make physical activity, which I usually detest, challenging and rewarding. My body and I are almost on speaking terms now, and I am incredibly grateful for the commitment and energy Peter gives to enrich others lives with health and well-being. Thank you Peter.
And thanks for not burning my sneakers.
Sandra
We have so much love we couldn't fit it all in on one page... there could be worse problems.